"As my father wished, he'd like to put up his birthday photos taken during hospitalization on billboard at Fuda to thank doctors and nurses there."
  --son of patient
  At Guangzhou Fuda Cancer Hospital (Fuda), each photo on billboard records a moving story between medical staff here and patients.
  On November 25, 2016, a middle-aged couple arrived at Fuda and they carefully posted a photo on the billboard, which was taken on Mr. Ting's birthday during his stay at Fuda last year. Mr. Ting, a patient suffering from liver metastasis in the photo, was a Philippine businessman. From May last year to July this year, he traveled to Fuda for treatment many times. In September this year, he died in his country due to stroke and pneumonia.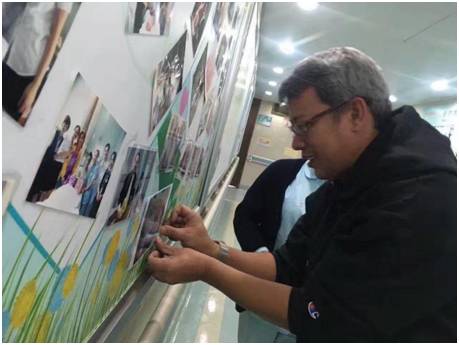 "As my father wished, he'd like to put up his birthday photos taken during hospitalization on billboard at Fuda to thank doctors and nurses there." In order to fulfill his father's wish, Mr. Ting's son and daughter-in-law flew to Guangzhou from the Philippines.
  "We just did what we were supposed to do, but what we did has moved this old man. In order to express gratitude, he has asked his family to leave his photo here before he died. We are all touched," Chen Yuxian, head nurse, said.
  "Mr. Ting died quite suddenly. I remember what he said to us – very grateful to Fuda," said Dr. Chen Zhixian, the attending physician.
  Mr. Ting was diagnosed with liver cancer five years ago and underwent cancer resection in the Philippines. His postoperative pathology showed moderately differentiated primary liver cancer. One year later, the cancer recurred so he had to undergo another surgery. In July 2014, an occupying space was found in his left lung. The biopsy showed postoperative lung metastasis of liver cancer. Then he was given targeted drug for treatment. However, after medication he developed rash, fatigue, and hemoptysis with bloody sputum. On February 18, 2015, a CT review indicated an increase in lung lesions. Then he was given brachytherapy and immunotherapy. Since the onset of cancer, Mr. Ting had been upset and thin as a rake.
  In 2015, Mr. Ting's family knew about Fuda through a lecture and after consulting the expert there, they decided to take him to Guangzhou for treatment.
  At the end of May 2015, they arrived at Fuda for treatment. After detailed examination, the medical team successively performed brachytherapy, cryosurgery and combined immunotherapy for him. After CT examination, the left pulmonary hilar metastasis was found to be significantly reduced.
  Mr. Ting's daughter works as a nurse in the United States. At the very beginning, she did not trust the nurse in the ward. When the nurse was going to give an injection to Mr. Ting, she wanted to do it herself. However, once she found that the nurses here were full of love and care, she was completely reassured.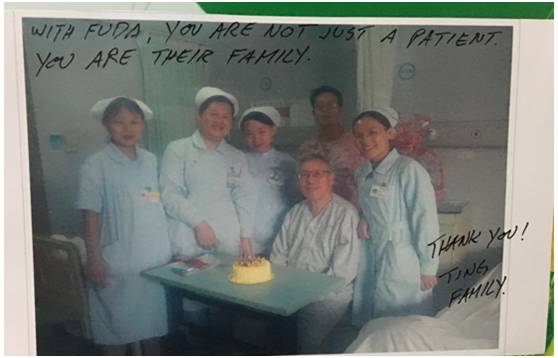 Mr. Ting (middle)
  On November 28, 2015, Mr. Ting celebrated his 70th birthday. "Happy birthday to you, happy birthday to you..." With the cheerful birthday song, nurses came into the ward with a beautiful birthday cake.
  Mr. Ting was surprised and happy and took the flowers from the medical staff and then blew out birthday candles. He said with a bright smile, "Thank you so much! I didn't expect to have a special birthday like this at Fuda. You are so sweet." Mr. Ting shed tears and said that he had a good memory here.
  On July 15, 2016, Mr. Ting underwent cryosurgery on right upper lung metastasis and brachytherapy at Fuda. After the surgery, he recovered well and soon returned home.
  Mr. Ting's son told the medical staff, "In September this year, my father died of stroke and pneumonia. He wished to leave his beautiful memories at Fuda-- the photo of his 70th birthday." He added, "My father was touched by the birthday party here. He often took out the photo and appreciated it for a while. He also showed it to our family and relative."
  On the photo it wrote: "With Fuda, you are not just a patient. You are their family."
  Indeed, Fuda provides heartfelt service for each patient so that patients here can feel at home.